---
Loving Care You Can Trust and Afford in the Comfort of Your Home
---
Finally, there's a new alternative especially designed to keep mature adults living independently in their own homes.

As people grow older, they frequently reach a point where they need to consider different options for living as independently as possible.

The search for assistance can often be a frustrating and fragmented one, leaving mature clients and their families confused and stressed.

That is why A+ loving Care offers a full range of support to enable mature adults the greatest level of independence possible in their own homes.

We ensure independence, compassion, dignity, dependability, security and peace of mind. These words guide our day to day efforts. But they are more than words. They are the essence of A+ Loving Care. In fact, our reputation depends on it. Consider today the beginning of a relationship with a company that is very different from what you've known.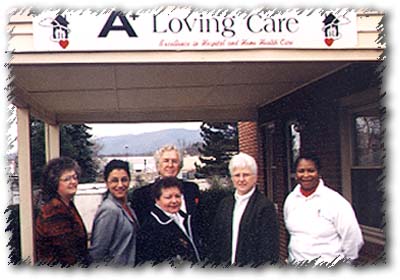 Drawing on our years of experience in the home care field, we formulated our idea of what a Home Care Service should be.
If you or a loved one have a need for expert home care, you will find the answer to most of your questions in our web site.
Our caregivers are experienced, loving, caring, individuals, dedicated to serving your special needs.
"Care that's there, when you need it most" personalized home care, private duty hospital, and nursing home care.
Over the years, the demand for health care has grown dramatically. As specialists in private Duty Care, A+ Loving Care has anticipated and responded to this demand. We are privileged to have earned the respect of the community by providing service that people know they can depend on. As health care needs continue to change, our vision and commitment remain strong and dedicated to the principles upon which A+ Loving Care was founded.
We would appreciate the opportunity to evaluate your needs, in the privacy of your own home, or in the hospital.